Her name was Maria. God sent me across the ocean to pray for her—a girl who was sixteen just like me, but lived in a completely different world. Through Maria, God taught me three things that would continue to echo through my life:
There is great need in this world
God can meet that need
He uses ordinary people to do it.
My heart was broken for missions. I wanted to help, but I didn't know how.
The question of how to help sat unanswered for me through high school, an office job, and four years of Bible college. I had started to wonder if there was really a place for me in cross-cultural missions. It was at that point that I prayerfully began exploring MissionNext and my service profile—something I had set up in college, but had never really used.
One day I logged into MissionNext and saw something unusual—a 100% match! Intrigued, I began looking into this ministry that I had never heard of before. In dialogue with SOAR (Service & Outreach Alaska to Russia) International Ministries, I discovered something unexpected—a ministry job that was tailor-made for me.
My place to serve
When I found SOAR, I was actually looking for jobs overseas. Instead, God led this Florida girl to move to Alaska to serve in SOAR's administrative base. With this position, I was able to travel to Russia and experience the ministry firsthand, in addition to using the skills God had given me in administration to fill critical needs in the U.S. God can use anyone, with any skill set, to further His Kingdom around the world.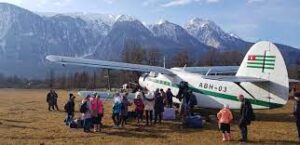 My experience in finding SOAR was a reminder to always stay open to God's leading. Your journey may not look the way you expected, but trust God's plan. He knows you better than you know yourself.
Find your fit through a MissionNext service profile. Find out more.