As an educator, you have a heart to serve your students and community. As a Christian, you have a desire to serve the Lord. MissionNext Education provides a service that lets you combine the two, connecting you with Christian schools and available teaching jobs outside the U.S. and Canada.
Making the decision to teach overseas can seem daunting. But it doesn't have to be! Here is one person's experience.
Teaching Jobs Overseas: MissionNext Education In Action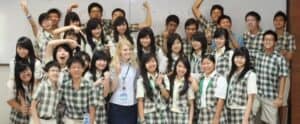 When I was finishing my teaching program and starting the process of looking for teaching jobs, I knew God was moving in my heart to teach overseas, but I had no idea where. I spent many nights staring at the world map on my bedroom wall, praying God would show me where to go.
When a friend told me about MissionNext, I was surprised to find so many Christian schools around the world that were  looking for teachers – many that had salaried positions. MissionNext Education provided a network and a way for me to connect with many schools across the globe.
After a couple of months, I was on my way to Jakarta, Indonesia, to teach Language Arts at an international school for two years. Teaching overseas was truly a life-changing experience. I was stretched and grew in ways that I wouldn't have if I'd stayed in comfort in the States. I learned lessons about crossing cultures, innovation in teaching, and developing Gospel-centered teaching practices.
More than that, my time in Indonesia opened my eyes more to God's heart for the world, the lost and broken. I'm very thankful for this life-changing experience and the lifelong cross-cultural friendships that I developed.
If you feel God is calling you to teach overseas, don't be afraid to move forward! Start your journey with MissionNext.